Archive for the 'Search Engines' Category
A handy cheat sheet for searching DuckDuckGo can be found at Techglimpse. Click on the image to see the larger version.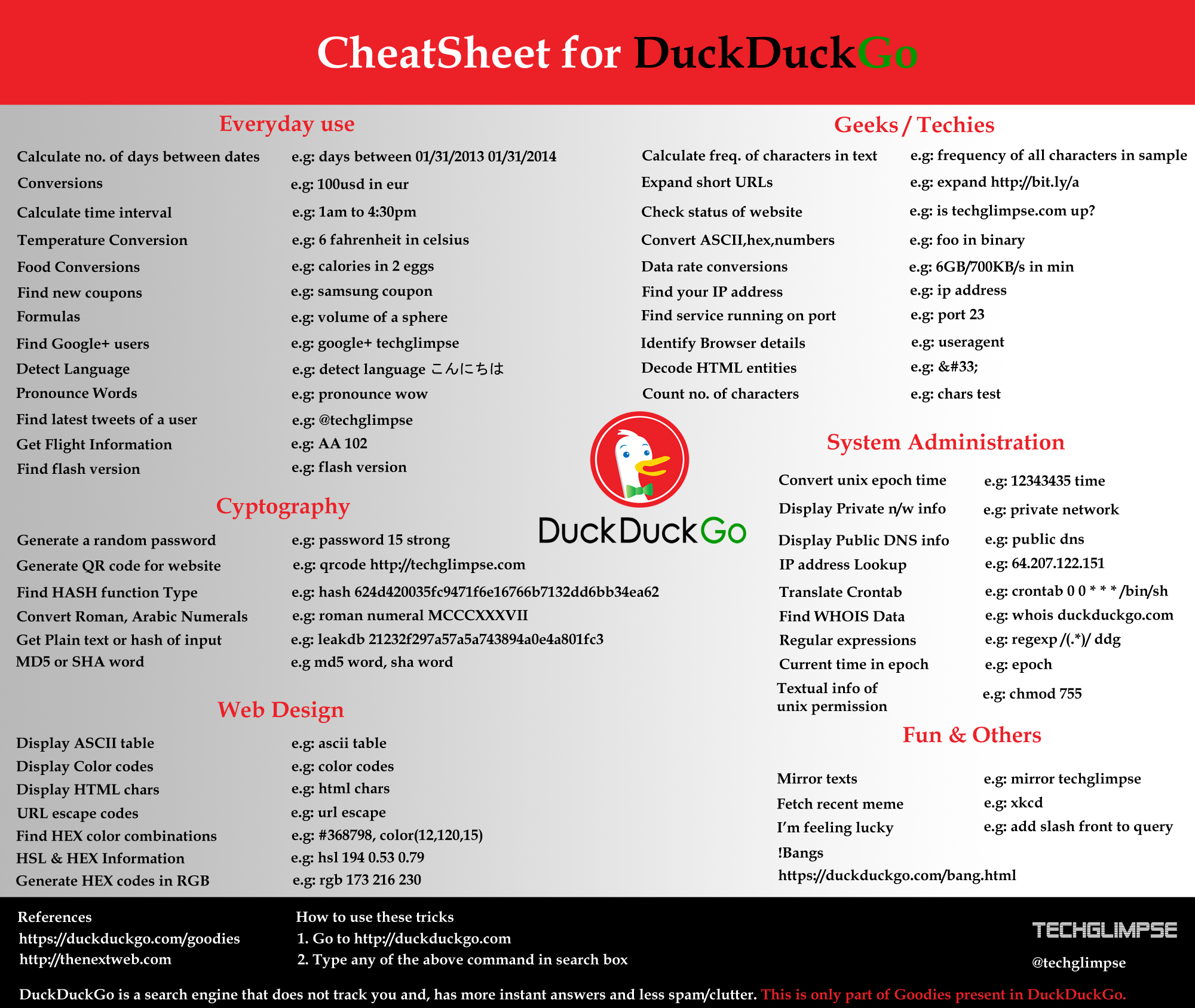 Wolfram Alpha is an interesting answer engine. It answers questions by computing the answer from curated, structured data, rather than providing a list of web pages that contain the search words like normal search engines.
Investigations often hinge on local conditions such as weather. When I need to estimate the weather conditions or compare someone's description of the weather to actual conditions, I type in a search term like "what was the weather in toronto on july 1, 1967″. Sometimes, Wolfram Alpha has no data from which to formulate an answer such as happened with this search. If you substitute the years 1950 or 2000 you get answers, but not for 1967.
Of course I verify what I get from Wolfram Alpha through official sources.
Images that appear on a web site offer many insights into the people who created the site. They tell you if they have the money to buy copyrighted content, or that they took the time to create their own imagery to get across their message. The imagery may also tell you that they don't respect copyright law. The use of the same image on several sites may indicate a relationship between the sites that use the image.
Bing now offers an image search facility that allows you to paste the specific image URL into the search box at Bing.com/images.  If you have a picture that you want to match, then you may upload it directly to Bing.com/Images and Bing will search for matches. To match an image, submit a URL, or upload an image, just click on image match.
When you come across an image on a site you find in the Bing Web results, go to Bing Image search and clear the search box. That will make the Image Match link appear next to the search box. When using this, the best approach is to have Bing Web open in one tab and Bing Images in another. As you click on Web results, they will open in a new tab between Bing Web and Bing Images. To isolate the images you wish to search, in Firefox, right click the image and click on view image. This will take you to the image itself and its unique URL. This makes it easier for Bing to isolate the image it is trying to match.
Your search and browsing behaviour allows Google to personalise your search results. To escape this filtering of your results use a private browser window called incognito as it is called in Chrome. Google will then ignore tracking and search cookies to stop personalising your results. To get a private browser or incognito window use the following key combinations:
Chrome –  Ctrl+Shift+N
FireFox – Ctrl+Shift+P
Internet Explorer – Ctrl+Shift+P
I have found that this approach doesn't work with Bing.
Metasearch for the Big Guys
Dogpile returns results from Google, Yahoo!, and Yandex. The Russian engine, Yandex, is the fourth largest search engine in the world and Yahoo! is really the Bing search engine database.
Dogpile is only good for short and simple search statements, however, it is a good for a quick look at what you are likely to get from the largest search engines.
Copernic Agent
Copernic has stopped selling its professional version metasearch tool and discontinued all support for both the professional and free personal versions of Copernic Agent. It only searches five of the 15 search engines it purports to search (Google, Bing, Yahoo, Dogpile, and Open Directory Project).
Copernic is Windows only.
iMetaSearch
iMetaseach is a possible replacement for Copernic. It is now in version 5.03, so it isn't a new kid on the block. The paid version searches Google and purports to search 11 other search engines.
The program groups search results by concept; click a group that interest you and the search results will be revised. This is an effective method to refine search results and get the most relevant results. It's very effective for ambiguous search terms.
Unfortunately, iMetasearch has a steep learning curve, but if you frequently conduct Investigative Internet Research it is worth the effort to learn how to use this advanced web search tool.
iMetasearch is Windows only.
The DuckDuckGo (DDG) search engine aggregates content to provide search results while offering significant privacy features. My favorite search shortcut in DDG is its version of the Google site: command. Place an exclamation point before the site you want to search–for example, "private investigator" !facebook. The exclamation point directs the search to a specific site. In this case, you will have to login to your Facebook account to see the results.
loc.alize.us shows the geo-location of images on Flickr. Address search and satellite imagery is provided by Google. The tag search is good as it shows all the tags on a given pic so that you can identify more tags to search for.
It has a lot of scripts running so be careful.
mypicsmap.com shows Flickr images on a on a full screen Google map. you can search by username or photoset ID.
This is a handy tool for seeing the image and it location on a map.
The apparent demise of Google Alerts forced me to turn to Talkwalker and Mention for alerts. However, Yahoo! Alerts offer some utility for keeping up with the world. In the past Yahoo! Alerts was only good for news. It now extends into the full web as catalogued by the Bing database. If you don't already know it, Microsoft swallowed Yahoo! search whole in 2009. Perhaps we should call it Microhoo.
You need a Yahoo! account for Yahoo! Alerts. The results cannot be pushed to an RSS feed, they only arrive via email, Yahoo Messenger, or mobile device, depending on what you have set-up in your Yahoo! account. Not all alerts allow for delivery using all three of the above delivery options.
To create an alert, select Y! Search from the drop-down list on the right side of the opening page or select Y!Search from the list on the initial screen. Next sign-in to your Yahoo! account. In the Search keyword field add the search terms as you would in the normal Yahoo! search box. In the next drop-down list select what you want searched, I normally select Web or News. Finally select the frequency of the search. The search preview will only show anything added to the database in the last 24 hours.
The Google/Yandex Search Link Fix Firefox extension prevents Google Search and Yandex from modifying result links when they are clicked. If you try to copy the link you may get gibberish instead of the actual link. If you try to copy the text description in the results it won't work unless you got to the Edit menu and select Copy — Ctl+C won't work. This extension disables these behaviors on any Google domain without having to configure anything.
Did you know that you can improve your Google results by changing the order of the words in your search statement? Try searches for "civil society" or "society civil", with and without double quotes. Do you notice any difference in the search results?
Did you know that you can make your Google search results more relevant by changing the reading level? If your search statement is complex or the topic is complex then selecting the advanced reading level may yield more relevant sites. To make this selection, click on Search tools then All Results and click on Reading level. The results will then be annotated with reading levels as well as a percentage breakdown of results by reading level. To filter by a reading level, click on the desired reading level. To go back to all results, click on View results for all.